Halloween dressing up as the grim reaper. It is done every single year! Do we realize who the grim reaper really is?! It is in the Bible, the Word of Yahweh God!
Psalms 49:15 "But God will redeem my soul  from the power of the grave: for He shall receive me.  Selah
Hebrews 2:14 Forasmuch then as the children are partakers of flesh and blood; He also Himself likewise took part of the same; that through death He might destroy him that had the power of death, that is the devil.
The grim reaper is satan himself, who we are fighting against. Would we or our children still like to dress up as the grim reaper who has the power over grave and death? Dressing up like the grim reaper is not fun and games. This allows satan to get a hold over you and your children. Is this what we really want?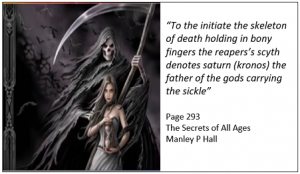 Or do we give our soul in the steady Hands of the Yahweh God LORD?  The powerful Redeemer Who can restore life; He is the Life!!!!!!!