Revelation 5:9 And they sung a new song, saying, Thou art worthy to take the book, and to open the seals thereof: for thou wast slain, and hast redeemed us to God by thy blood out of every kindred, and tongue, and people, and nation.
Revelation 21:6 And he said unto me, It is done. I am Alpha and Omega, the beginning and the end. I will give unto him that is athirst of the fountain of the water of life freely.
Yahweh God fulfills all of His promises. And that the Ten Tribes of Israel were never lost, as many people claim.
The words immutability and immutable occur in the KJB one time. So when Yahweh God words are immutable, that means that the words of Yahweh can in no way be changed or withdrawn!
Hebrews 6:17-18 17/ Wherein God, willing more abundantly to shew unto the heirs of promise the immutability of his counsel, confirmed it by an oath: 18/ That by two immutable things, in which it was impossible for God to lie, we might have a strong consolation, who have fled for refuge to lay hold upon the hope set before us:
Yahweh God, is swearing by Himself.
Genesis 22:15-16 And the angel of the LORD called unto Abraham out of heaven the second time, 16/ And said, By myself have I sworn, saith the LORD, for because thou hast done this thing, and hast not withheld thy son, thine only son:
The Words of Yahweh will remain.
Isaiah 55:11 So shall my word be that goeth forth out of my mouth: it shall not return unto me void, but it shall accomplish that which I please, and it shall prosper in the thing whereto I sent it.
Mark 13:31 Heaven and earth shall pass away; but my words shall not pass away.
When this is understood and believed, we will be able to find the connection with the New Testament, the present and the time to come.
Now the Day of the Yahweh is at hand, the Most High of Israel is taking off the veil of the eyes of some people. And the number is slowly, but surely increasing. We have to unlearn to believe, the incorrect belief that has become so dear to us. But it is time to leave it all behind, and I can assure you that is not always easy. It also takes time to search and study the word of Yahweh God. But that is well worth the time. To dive into history with an open Bible. To look at the maps when and where during the migrations the Israelites went, after their captivities.
There is no way that we can spiritualize Israel as the Church. Israel, Abrahams seed, IS the Church. The Israelites ARE the Christians. And there is no way we can identify Jesus Christ as a jew. Identifying Yahshua Christ as a jew while walking on earth and spiritualizing Israel is not only a man-made conclusion, it takes away the glory of the Most High. Abraham is mentioned throughout the Bible in the Old- and the New Testament. Shouldn't that tell us something?
Isaiah 62:2 And the Gentiles (= people of other nations) shall see thy righteousness, and all kings thy glory: and thou shalt be called by a new name, which the mouth of the LORD shall name.
Acts 11:26 And when he had found him, he brought him unto Antioch. And it came to pass, that a whole year they assembled themselves with the church, and taught much people. And the disciples were called Christians first in Antioch.
ABRAHAM AND ISAAC
Genesis 17:2 And I will make my covenant between me and thee, and will multiply thee exceedingly.
Genesis 17:4-6 As for me, behold, my covenant is with thee, and thou shalt be a father of many nations. 5/ Neither shall thy name any more be called Abram, but thy name shall be Abraham; for a father of many nations have I made thee. 6/ And I will make thee exceeding fruitful, and I will make nations of thee, and kings shall come out of thee.
Genesis 17:19 and 21. And God said, Sarah thy wife shall bear thee a son indeed; and thou shalt call his name Isaac: and I will establish my covenant with him for an everlasting covenant, and with his seed after him. 21/ But my covenant will I establish with Isaac, which Sarah shall bear unto thee at this set time in the next year.
JACOB/ISRAEL
Genesis 28:13-16 And, behold, the LORD stood above it, and said, I am the LORD God of Abraham thy father, and the God of Isaac: the land whereon thou liest, to thee will I give it, and to thy seed; 14/ And thy seed shall be as the dust of the earth, and thou shalt spread abroad to the west, and to the east, and to the north, and to the south: and in thee and in thy seed shall all the families of the earth be blessed. 15/ And, behold, I am with thee, and will keep thee in all places whither thou goest, and will bring thee again into this land; for I will not leave thee, until I have done that which I have spoken to thee of.
Genesis 32:26-28 And he said, Let me go, for the day breaketh. And he said, I will not let thee go, except thou bless me. 27/And he said unto him, What is thy name? And he said, Jacob. 28/ And he said, Thy name shall be called no more Jacob, but Israel: for as a prince hast thou power with God and with men, and hast prevailed.
Genesis 48:19/ And his father refused, and said, I know it, my son, I know it: he also shall become a people, and he also shall be great: but truly his younger brother shall be greater than he, and his seed shall become a multitude of nations.
CLICK ON IMAGES TO ENLARGE. OPENS IN NEW TAB.
Genesis 49 The blessings of Jacob/Israel to his sons reflect the Heraldry of Europe.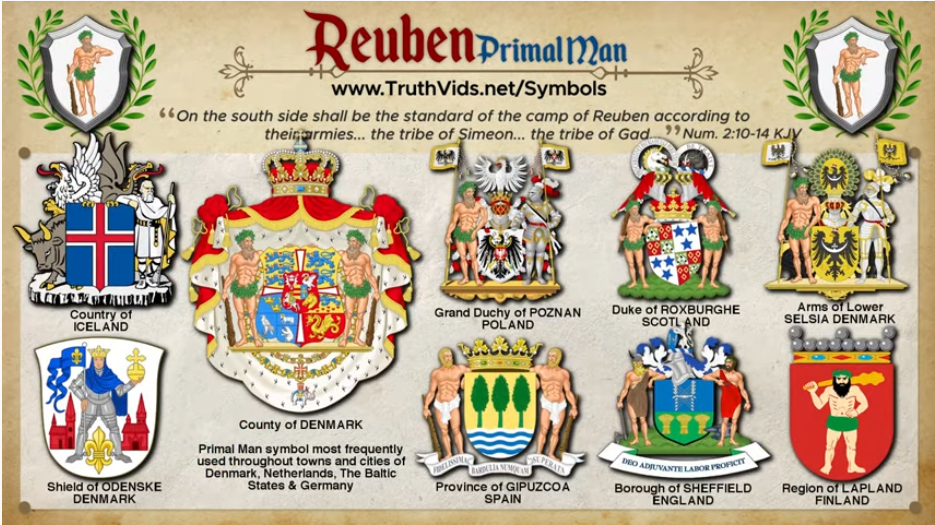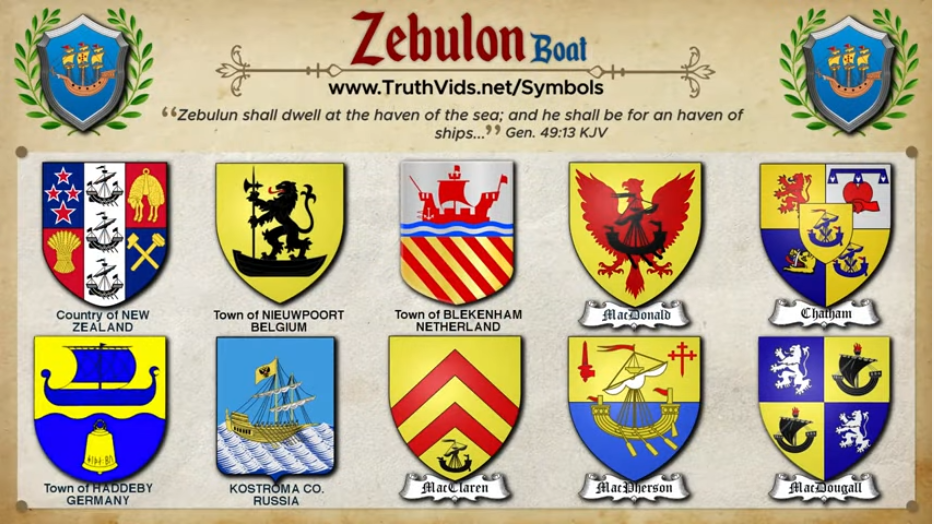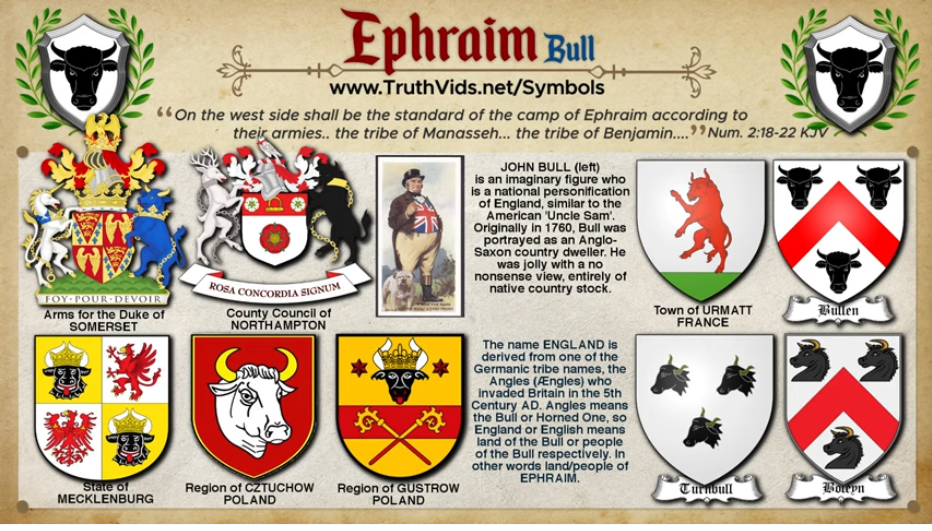 Luke 1:68-75
68 Blessed be the Lord God of Israel; for he hath visited and redeemed his people,
69 And hath raised up an horn of salvation for us in the house of his servant David;
70 As he spake by the mouth of his holy prophets, which have been since the world began:
71 That we should be saved from our enemies, and from the hand of all that hate us;
72 To perform the mercy promised to our fathers, and to remember his holy covenant;
73 The oath which he sware to our father Abraham,
74 That he would grant unto us, that we being delivered out of the hand of our enemies might serve him without fear,
75 In holiness and righteousness before him, all the days of our life.
What difference does it make? It makes all the difference! First, that we are being born from Above. Yahweh God through His mercy redeemed us (purchased us back). Yahweh God kept His oath to Abraham. The descendants of Abraham, the White People, did not go up into thin air. They did not become (a) spiritual (church) as many church leaders and believers claim. Israel is not replaced by a "spiritual" Israel.
Second, that we, the White people, are staring each other right in the face. That we through Yahweh God can be a blessing to people of other nations.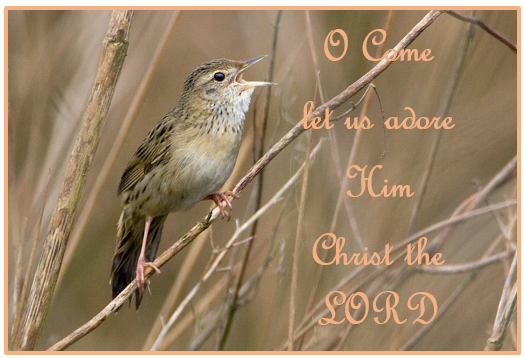 Personally, from the very bottom of my heart I thank Yahweh God that by an online incident the Redeemer, the Holy One of Israel, Who purchased me back provided to me the missing link, To know Who and what mine inheritance is and where exactly mine roots lay is a blessing beyond words and a joy without measure. Born from Above still brings many a tear to mine eyes.
I cannot, and I don't want to go that far that non-Israelites cannot be saved, however they also have to abide by the Law of Yahweh. However, it will not make them Israelites.
And Yahweh did save the pagan King Nebuchadnezzar
after the Most High of Israel, taught him a thing or two.