Written by W.G. Finlay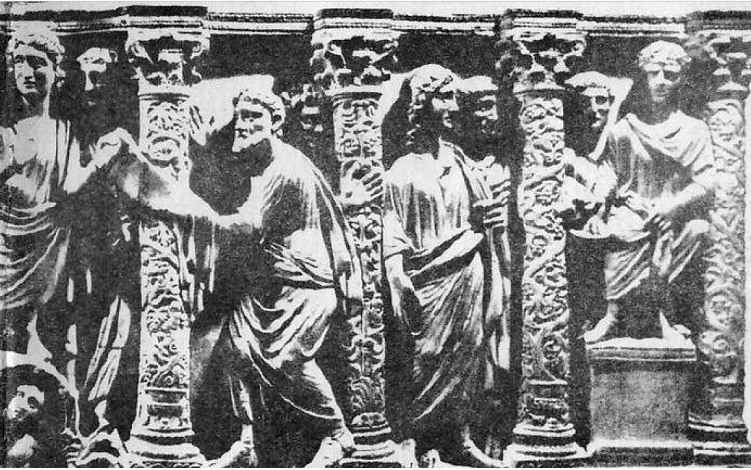 Posted and image added by Jackie
CHAPTER FOUR (second part)
As one begins an objective analysis of the Four Gospels in the light of the way in which Peter, James, and John are treated by the writers, one cannot escape the very strong Pauline influence on their writing. In Mark's Gospel, for instance, one finds an over-emphasis on Peter's failings. His impulsiveness, his lack of understanding, and his ignorance while Matthew, although, not quite so hostile, presents him as a man of little faith and certainly not spiritually equipped to be the leader of the Apostles. In Luke's Gospel one finds an attempt to project a specific image of Peter – a marked refinement of that which Mark presents – but one which is more subtle in that it is suggestive of the fact that Peter was unmoved and certainly unchanged by his continued presence with the Lord. Luke, it will be noted, carefully avoids Mark's derogatory remarks but in place of this, he continually uses the name "Simon."
Luke 5:1-11 and 24:34 thus ignoring the "Cephas" name given by the Lord when He called Peter
"And he brought him to Jesus. And when Jesus beheld him, he said, Thou art Simon the son of Jona: thou shalt be called Cephas, which is by interpretation, A stone".(John 1:42)
and implying that the name change was a fiction, or alternatively, that it was irrelevant. While one finds a similar treatment of Peter in John's Gospel, it should be noted that this account carried incidents not mentioned in the other Gospels which place the stamp of the Lord's approval on Peter, whom He appointed the first of the Apostles.
There are, of course, those who say that there is nothing untoward in the fact that Peter is projected in a not too pleasant light in the Gospels – after all, he was as he is depicted and there is therefore no reason to see any ulterior motive in this. On the surface and under normal circumstances, this statement would be acceptable, but in the light of what James, John, and Jude wrote concerning the intrusion of unauthorised persons plus the perversion of the Truth, one should examine all things particularly those things which imply that the Lord made mistakes. Make no mistake here – the Lord did not make any mistakes, either, in selecting His witnesses,
And ye also shall bear witness, because ye have been with me from the beginning. (John 15:27)
nor, in His appointment of Peter as their leader. If the credibility of Peter and the Apostles could be challenged, if their status as the only Christ-appointed Apostles could be questioned, any person claiming a supernatural sponsorship by Christ could fill the vacuum created by the loss of integrity by the Apostles. This being so, it would serve to look against at those accounts which cast aspersions on the choice by the Lord of His Apostles.
MARK
Ironically enough, Mark, according to Irenaeus who quotes Papias, is called interpres et sectator Petri or Peter's interpreter and most theological textbooks express the opinion that the phrase used by Irenaeus could be taken in two ways, In the first, it is suggested that Mark was not one of Twelve, he was Peter's interpreter in that he translated the Aramaic discourses of the Apostle into Greek, while in the second, that Mark wrote a Gospel which conformed more exactly than others to Peter's preaching, thus "interpreting it to the church at large". However, before speculating as to the true meaning of Irenaeus phraseology, it would serve to note the story of Mark, which begins in the 12th chapter in the Acts.
The first point, which emerges, is that Mark was originally called "John, whose surname was Mark" and that as the narrative continues, "John" was dropped and the Roman "Marcus" or the English Mark takes over. The John Mark of Acts 12:12, 25 and the "John" of Acts 13:5,13 becomes "Mark", only in Acts 15:39, Colossians 4:10. 2ndTimothy 4:11, and Philemon 24. The change from "John" to "Mark" according to Dr. William Smith in his Dictionary of the Bible" … is analogous to that of Saul to Paul" There can, of course, be very little doubt that Peter was known to Mark, it will be noted, accompanied Paul on his first journey to Cyprus (Acts 13:5) and although, no further mention is made of him he is again to undertake his second journey although on this occasion and for reasons not stated, Mark became the bone of contention between Barnabas and Paul (Acts 15:39). As a result of this, Paul chose Silas (Acts 15:40) who is identified as Silvanus, the chronicler of Peter's first Epistle (1st Peter 5:12), in place of both Barnabas and Mark. Apart from the bald statement"… Paul thought not good to take him (Mark) with them…", no further reason is provided for the separation but whatever it was, it did not last long for one finds Mark at Paul's side during his first imprisonment at Rome (Colossians 4:10) after which he appears to have returned to Palestine where he is found with Peter at Babylon when he was specifically told to "feed My sheep" who were certainly not the Babylonians – Mark appears to have left Peter and returned to Asia Minor where he is found in the company of Timothy at Ephesus at which time Paul wrote stating that he was anxious for his return to Rome (2nd Timothy 4:11).
Thus, as one considers Mark's historical background, one cannot escape the conviction that Irenaeus would have been more justified had he called Mark Paul's "interpreter"rather than that of Peter. However, as Papias picked up and transmitted Irenaeus'description of Mark – a description which was perpetuated by what later historians as well – it would serve to determine in what way Mark interpreted Peter. The pro-Pauline writer J.K. Elliot, in an article Who was Peter?, made the following observation, which could be nearer the truth than most will consider. He wrote: "The early Christian writer Papias in a famous passage claims Mark to be Peter's interpreter. That tradition is true only insofar as Mark interprets the role of Peter in the judgement of the Gentile church …" The Gentile church", perse was Paul's creation in which all and sundry were invited to participate whereas that of which Peter was appointed head, was exclusive and opposed to the doctrines taught by Paul. The conflict between Peter and Paul has already been commented on previously.
If J.K. Elliot is correct in his assessment of the meaning of the statement by Irenaeus – and there is more than considerable support for this contention – one can begin to understand Mark's attitude, as expressed in his Gospel, toward the man whom historians claim he interpreted. If one reads Mark's Gospel in isolation, it would be impossible to pick up the story of Mark's interpretation of Peter in the judgment of Paul's Gentile church but as one studies this in conjunction with the other accounts, this feature emerges very strongly. Apart from Mark's over-emphasis on Peter's failings – a very strange development if he was indeed "Peter's interpreter"- one finds Mark indulging in a pro-Gentile church attitude when he records Peter's confession at Caesera Philippi. If one reads Matthew's account which the early "church fathers" – Irenaeus, Pantaeunus, Origin, Epiphanius, and Jerome – contend was written in Hebrew, it will be seen that when the Lord Jesus Christ asked the disciples concerning their appreciation of His Identity – and this after many miracles – they are projected as being very uncertain. However, the Lord, again put the question:
"He saith unto them, But whom say ye that I am? And Simon Peter answered and said, Thou art the Christ, the Son of the living God." (Matthew 16:15,16)
The Promise of a "Messiah" had of course figured very prominently in the writings of the Prophets of Israel – no prophets were raised to the Judean of the Jewish population as it developed into a pseudo-Israel pretension.
To the Galileans, who were indeed a true remnant of true Israel, these promises of a Messiah have never been forgotten. Peter would remember this but in addition, the Lord blessed him for his recognition and said:
"And Jesus answered and said unto him, Blessed art thou, Simon Bar–jona: for flesh and blood hath not revealed it unto thee, but my Father which is in heaven. And I say also unto thee, That thou art Peter, and upon this rock I will build my church; (= Greek Ecclesia, not "church" but called out ones); and the gates of hell shall not prevail against it". (Matthew 16:17,18)
Without considering the various aspects of this account, it will be seen that Peter is seen as receiving the blessing of the Lord, Who maintained that the Father had blessed him with knowledge. Thus, in Matthew's account Peter receives a Divine Authorisation to propagate The Truth among the Ecclesia or as it written in the Hebrew text, the qậhậl which would be understood by Israelites as meaning their exclusive National Assembly.
In considering Mark's account of Peter's confession, it will be seen that all reference to Peter's authorisation has been omitted to be placed by the reference to Peter as vehicle for satanic interference.
"And he saith unto them, But whom say ye that I am? And Peter answereth and saith unto him, Thou art the Christ. And he charged them that they should tell no man of him.And he began to teach them, that the Son of man must suffer many things, and be rejected of the elders, and of the chief priests, and scribes, and be killed, and after three days rise again. And he spake that saying openly. And Peter took him, and began to rebuke him. But when he had turned about and looked on his disciples, he rebuked Peter, saying, Get thee behind me, Satan: for thou savourest not the things that be of God, but the things that be of men." (Mark 8:29-33)
From a comparison between Matthew and Mark's account, it is patently obvious that Mark was playing the event down so as to eliminate any thought in the minds of the gentile converts that the Christ of God had any association with the National Israelitish Promised Messiah.
As one passed to the climax of the Lord's Ministry, one finds "Peter's interpreter" not only denigrating Peter but all those Apostles whom the Lord had chosen. The Lord took His Apostles to the Garden of Gethsemane and told them to sit and pray, while He took Peter, James, and John apart and told them to "tarry and watch."
"And saith unto them, My soul is exceeding sorrowful unto death: tarry ye here, and watch" (Mark 14:34)
"And he cometh, and findeth them sleeping, and saith unto Peter, Simon, sleepest thou? couldest not thou watch one hour" (Mark 14:37)
The Gethsemane scene in Mark's Gospel anticipates the final desertion of the Lord by His chosen Apostles and by Peter in particular, and is presented in such a way that the gentile converts would view the Apostles and anything that they either said or did in a very poor light indeed.
Mark's anti-Petrine bias reached its climax in the story of the denial in which the Lord Jesus Christ is seen as acting in a courageous and dignified manner before the high priest whereas Peter, limited to the courtyard, acts in a cowardly, undignified manner during the questioning by the servants of the high priest. Significantly, Peter's final appearance in Mark's Gospel is found in a context which leaves any reader of Mark's account with a conviction that Peter was the last man in the world to follow in respect of the things of Christ.
NOTE:
Were these words really spoken by Yahshua Christ?
Mark 16:15 And he said unto them, Go ye into all the world, and preach the gospel to every creature. 

While the last words of Yahshua Christ to Peter were,
John 21:16 He saith to him again the second time, Simon, son of Jonas, lovest thou me? He saith unto him, Yea, Lord; thou knowest that I love thee. He saith unto him, Feed my sheep. 17/ saith unto him the third time, Simon, son of Jonas, lovest thou me? Peter was grieved because he said unto him the third time, Lovest thou me? And he said unto him, Lord, thou knowest all things; thou knowest that I love thee. Jesus saith unto him, Feed my sheep, just, before HE ascended to the Father?
Are the sheep of Yahshua Christ every creature? And didn't Yahshua Christ changed Simon's name to Peter? (John 1:42) Jackie
We continue
This, in conjunction with Peter's reaction when the cock crowed, is the last mention in Mark's Gospel which was written without any thought in mind of its incorporation with other accounts into one comprehensive Book, called The Bible. While other Gospel writers attempt to find theological explanations why Peter, Judas and the twelve in general behaved as they did, such attempted apologies are totally absent from the account written by the man whom subsequent generations have considered as Peter's interpreter.
To be continued Part 6, Chapter 5, conclusion.