Election and predestination do not originate of John Calvin. The issue was also a part of the 95 Thesis of Martin Luther. Calvin worked out the teachings of Martin Luther in his "The Institution of Christianity". John Calvin is greatly misunderstood by the majority of the Evangelicals. Do the Evangelicals rightly understand the mentioned work? Did they even read the sermons of this great reformer? His key issue was: "How can I live a life to the glory of God."
We continue with the remaining of the five points of his teachings.
3/ LIMITED ATONEMENT
When the atonement is not limited it would be a universal atonement. That is not mentioned in the Bible. God, Jesus Christ, paid with His precious Blood for sin. Jesus Christ did not shed His Blood for just anyone. And in particular for anyone who is and will always remain against Him or will be lukewarm for that matter. At the Last Supper, Jesus Christ spoke to His disciples and not to a crowd of people.
Matthew 26: 27-28 And as they were eating, Jesus took bread, and blessed it, and brake it, and gave it to the disciples, and said, Take, eat; this is my body. 27/ And he took the cup, and gave thanks, and gave it to them, saying, Drink ye all of it; 28/ For this is my blood of the new testament, which is shed for many for the remission of sins.
Hebrews 7:26 For such an high priest became us, who is holy, harmless, undefiled, separate from sinners, and made higher than the heavens; 27 Who needeth not daily, as those high priests, to offer up sacrifice, first for his own sins, and then for the people's: for this he did once, when he offered up himself.
4/IRRESISTIBLE GRACE
Yes, the grace of God we cannot withstand. Jesus of Nazareth stopped Paul (then called Saul) in his tracks on his way to Damascus. Wasn't he hell-bent and come what may he was going to round up and bring those Christians to Jerusalem to be persecuted? Was he seeking the LORD? Could anyone have reasoned with him before Jesus Christ stopped him? And wasn't he present when Stephen was stoned to death? Would Saul have been able to choose for Jesus Christ at the time that Stephen was stoned, or before? Saul could make the choice for AFTER Jesus Christ stopped, and called for him.
Acts 7:58 And cast him out of the city, and stoned him: and the witnesses laid down their clothes at a young man's feet, whose name was Saul.
Acts 22:8 And I answered, Who art thou, Lord? And he said unto me, I am Jesus of Nazareth, whom thou persecutest
Acts 9:6 And he trembling and astonished said, Lord, what wilt thou have me to do? And the Lord said unto him, Arise, and go into the city, and it shall be told thee what thou must do.
God's grace, the grace from Above, empowered Paul's labor abundantly.
1Corinthians 15:10 But by the grace of God I am what I am: and his grace which was bestowed upon me was not in vain; but I laboured more abundantly than they all: yet not I, but the grace of God which was with me.
Jesus Christ called Zaccheus to come down from the sycamore tree. God's grace is irresistible.
Luke19:15 And when Jesus came to the place, he looked up, and saw him, and said unto him, Zaccheus, make haste, and come down; for to day I must abide at thy house.
The chief publican came down in a hurry and, his first words were. "Behold Lord."
Luke 19:8 And Zaccheus stood, and said unto the Lord; Behold, Lord, the half of my goods I give to the poor; and if I have taken anything from any man by false accusation, I restore him fourfold.
The grace of God for Isaiah was irresistible.
Isaiah 6:8 Also I heard the voice of the Lord, saying, Whom shall I send, and who will go for us? Then said I(=Isaiah), Here am I; send me.
God showed Nebuchadnezzar Who He was. When God would not have done this, there was no way that the pagan king would have been saved. The salvation came from Above.
Daniel 4:34-35 And at the end of the days I Nebuchadnezzar lifted up mine eyes unto heaven, and mine understanding returned unto me, and I blessed the most High, and I praised and honoured him that liveth for ever, whose dominion is an everlasting dominion, and his kingdom is from generation to generation: 35/ And all the inhabitants of the earth are reputed as nothing: and he doeth according to his will in the army of heaven, and among the inhabitants of the earth: and none can stay his hand, or say unto him, What doest thou?
Ephesians 1:18 The eyes of your understanding being enlightened; that ye may know what is the hope of his calling, and what the riches of the glory of his inheritance in the saints.
Galatians 1:15 But when it pleased God, who separated me from my mother's womb, and called me by his grace,
5/PERSEVERANCE OF THE SAINTS
After Gods grants us salvation, we will be sealed with the Holy Spirit. This is forever. God always fulfills His ALL of His promises. This brings us "once saved, always saved". Definitely! Anyone losing his/her salvation was not truly saved, to begin with. The parable of the Seed and the Sower comes to mind in Matthew Chapter13. God saves people in honor of His great Name, and He has chosen them with care.
2Corinthians 1:22 Who hath also sealed us, and given the earnest of the Spirit in our hearts.
Ephesians 1:13 In whom ye also trusted, after that ye heard the word of truth, the gospel of your salvation: in whom also after that ye believed, ye were sealed with that holy Spirit of promise,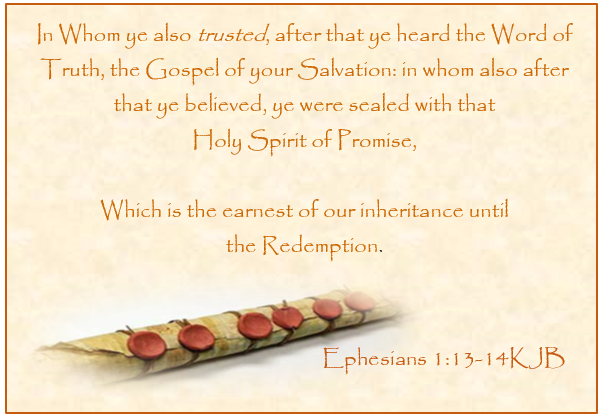 God will finish the work that He started to the very end and perfectly.
Philippians 1:6 Being confident of this very thing, that he which hath begun a good work in you will perform it until the day of Jesus Christ:
Ephesians 1:3-5 Blessed be the God and Father of our Lord Jesus Christ, who hath blessed us with all spiritual blessings in heavenly places in Christ: 4/ According as he hath chosen us in him before the foundation of the world, that we should be holy and without blame before him in love: 5/ Having predestinated us unto the adoption of children by Jesus Christ to himself, according to the good pleasure of his will,