King James Bible is not homo-sexual friendly.
The True Vine versus the Vine of Sodom is the KJB dated back to William Tyndale versus all modern English translations based upon the Vatican- and Sinai manuscripts accepted by the occultists Westcott and Hort. The translators of the new bible versions were evolutionists, atheists, and also homo-sexuals. The translators are supposed to have been much more accurate. Oh yes, they were much more accurate only to corrupt the Word of God as not to expose themselves to having their worldly pleasures and man- made conclusions. And also to justify themselves that what is an abomination in the Eyes of LORD.
Romans 1:24-27 Wherefore God also gave them up to uncleanness through the lusts of their own hearts, to dishonour their own bodies between themselves: 25 Who changed the truth of God into a lie, and worshipped and served the creature more than the Creator, who is blessed for ever. Amen. 26 For this cause God gave them up unto vile affections: for even their women did change the natural use into that which is against nature: 27 And likewise also the men, leaving the natural use of the woman, burned in their lust one toward another; men with men working that which is unseemly, and receiving in themselves that recompence of their error which was meet.
Supported by:
Leviticus 18:22 and 26 22 Thou shalt not lie with mankind, as with womankind: it is abomination. 26 Ye shall therefore keep my statutes and my judgments, and shall not commit any of these abominations; neither any of your own nation, nor any stranger that sojourneth among you:
Leviticus 20:13 If a man also lie with mankind, as he lieth with a woman, both of them have committed an abomination: they shall surely be put to death; their blood shall be upon them.
Deuteronomy 23:17 There shall be no whore of the daughters of Israel, nor a sodomite of the sons of Israel.
Neither is Lord Jesus Christ gay-friendly. On the contrary, the Saviour condemns the sin of being gay! The very Words of Jesus Christ Himself in the following verses a summation of thirteen. The number thirteen in the Bible stands for evil.
Mark 7:21-23 For from within, out of the heart of men, proceed evil thoughts, adulteries, fornications, murders. 22 Thefts, covetousness, wickedness, deceit, lasciviousness, an evil eye, blasphemy, pride, foolishness 23 All these evil things come from within, and defile the man.
See also Matthew 15:18-20
It's just like Ahab talking to Naboth
1Kings 21:1 And Ahab spake unto Naboth, saying, Give me thy vineyard, that I may have it for a garden of herbs, because it is near unto my house: and I will give thee for it a better vineyard than it; or, if it seem good to thee, I will give thee the worth of it in money.
The so-called prominent theologians of seminaries embracing modern English translations are claiming that King James was a homosexual. No, he was not! The true story Neither was the King a Freemason.
Neither one of the claims is true that David and Jonathan were homosexual, as well as Ruth and Naomi were lesbians. Both these statements are pure blasphemy as these claims are absolutely false. The man-made conclusions about the persons and events representing Jesus Christ are brought down to a human level and then some.
David loved women, and Jonathan was married. The love they shared had nothing to do with a romantic love like between a man and a woman. Their love for each other was comradeship. They were true and close comrades. Comrades come what may. Comrades they were through thick and thin.
Jonathan representing Christ. Lord Jesus Christ the Lover of souls, made a covenant with those that are in Christ! Psalms 66:16, Psalms 86:13, Psalms 107:9, Psalms 116:7. 1 Samuel 18:3 Then Jonathan and David made a covenant, because he loved him as his own soul.
The love of Jonathan for David was the protective love of a faithful friend.
1 Samuel 18:4 And Jonathan stripped himself of the robe that was upon him, and gave it to David, and his garments, even to his sword, and to his bow, and to his girdle.
Jonathan had a son called Mephibosheth and he was later adopted by David.
2Samuel 9:6,7 Now when Mephibosheth, the son of Jonathan, the son of Saul, was come unto David, he fell on his face, and did reverence. And David said, Mephibosheth. And he answered, Behold thy servant 7 And David said unto him, Fear not: for I will surely shew thee kindness for Jonathan thy father's sake, and will restore thee all the land of Saul thy father; and thou shalt eat bread at my table continually.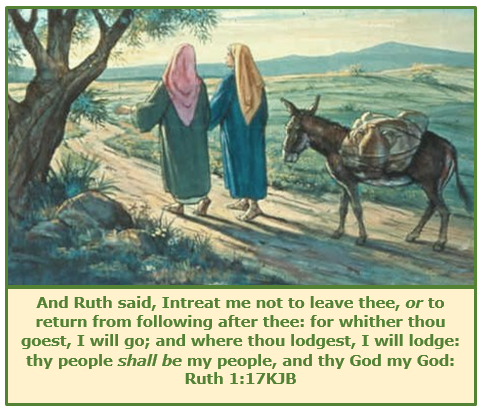 The second false claim that Naomi and Ruth were lesbians. How pathetic! While Ruth to Naomi is saying "and thy God shall be my God". Persons and events are all pointing to Christ and the time to come that the tribes of Israel and the believers out of the gentiles will be saved faith through grace. Boaz representing Jesus Christ, Naomi representing the tribes of Israel and Ruth a gentile woman. A child is born. Ruth is handing the child to Naomi. Ruth the gentile woman predestined to be the great-grandmother of David is of the generation of Lord Jesus Christ.
The link to the website concerning the claims of David and Jonathan and Ruth and Naomi is to show you that I am not making it up!
The new age gender neutral-gender bibles the greatest lie satan ever released to mankind; his corruptible seed. The same corruptible seed he poisoned Eve with through his 46 words. We have 46 chromosomes.
Knowing what God's Word is telling us about homo-sexuality the so-called prominent (homo-sexual) theologians and translators are trying to justify themselves.
The True Vine
The King James Bible came from the roots of one vine: from Tyndale to the Geneva Bible John 15:1 I am, the true Vine, My Father is the Husbandman.
The Vine of Sodom
The Vine of Sodom. Actually there are two contradicting vines of Sodom. All modern English translations are from two different manuscripts: the Vaticanus and the Sinaiticus. Disagreeing with each other almost 3000 times in the NT alone. Homo-sexuals and those who favor the corrupt bible have become drunk from the drinking of the vine of Sodom.
Deuteronomy 32:32-33 For their vine is of the vine of Sodom, and of the fields of Gomorrah: their grapes are grapes of gall, their clusters are bitter: 33 Their wine is the poison of dragons, and the cruel venom of asps.