Are we able to visualize the great glory beyond imagination the Saviour left behind to come to such a dark world full of evil and shame? Are we really able to adequate describe the Majesty of Christ?
How beyond human comprehension is His Coming to earth to become a Man. How even more beyond human comprehension becoming a Man of Sorrow to know all suffering.
The human mind is not able to comprehend, Christ coming down to earth in poverty. His greatness is showing us how vast the difference is between heaven and hell, grace and judgement, between to be in the Presence of our Lord and Saviour eternally, or being separated from His Presence eternally.
He, Who sat on His throne in the Most High Heavens as the Eternal God by Whom all was created. All that is in Heaven and above and on and under the earth.
He, upon Whose Shoulder the whole world is resting.
He, Who was continually worshiped and praised by the archangels and angels.
He, Who as a Sovereign reigned over all that He created is above all Eternal.
He, the Christ the Only Begotten Son of the Living God. The suffering , the abuse, the shame that our Saviour had to go through. The battles against the evil spirits He had to conquer while He was totally abandoned and separated from the Father.
The following Psalms come to mind:
–Psalms 118:22,23 The Stone Which the builders refused is become the Head Stone of the Corner.
23 This is the LORD'S Doing; it is marvellous in our eyes.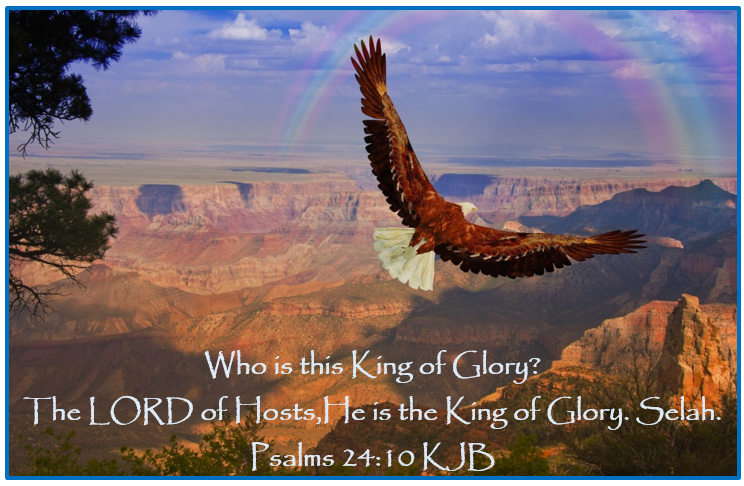 –Psalms 24;9 Lift up your heads, O ye gates; even lift them up, ye everlasting doors; and the King of glory shall come in. 10 Who is this King of glory? The LORD of hosts, He is the King of glory. Selah.
The greatness of Christ Jesus is also showing us His never-ending Love to everyone who has accepted Him as their personal Lord and Saviour.