The Feast of Passover
Timeline before the Crucifixion following the story in the Gospel of Matthew.
Monday: The disciples went to make reservations in the Upper Room in the evening hours for the Last Supper Matthew 26:18 Gethsemane Jesus Prayer verse 36-42 in Kidron His arrest verse 50;
Tuesday: early in the morning the Sanhedrin delivered Jesus to Pilate Matthew 27:2.
Wednesday: 9 o'clock in the morning Crucifixion Matthew 27:31; at noon complete darkness graves of the saints were opened at three o'clock; in the afternoon Lord Jesus called out "Eli Eli Lama Sabachtani" 27:46; "It is finished" John 19:30. After sunset for the Judean people a new day, the funeral took place in the tomb of Joseph of Arimathea; earthquake 27:52
Thursday: The Sepulchre was sealed off with a stone and the Guard was placed in front 27:64
Friday: Pesach (Feast of Passover) 14th of Nisan (April) the sacrifice of the lamb
Sunday: Very early in the morning, 28:1 however at a late a hour after Sabbath the women came to an empty tomb. For the Judean concept the Resurrection took place on Sunday morning, the first day of the week. According to the western concept the Resurrection took place on Saturday night.
Jesus Christ has dwelt among us for 33 years and 7 months. 33AD. The Second Coming of Jesus Christ will be in with power and great glory in the clouds Matthew 24:30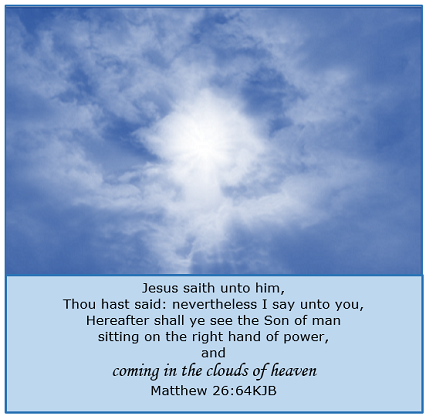 Matthew 26:64 Hereafter shall ye see the Son of man sitting on the Right of Power and coming in the clouds.
2/2