The difference between the House of Israel and the House of Judah. The original Judean people are the descendants of the tribe of Judah including the tribe of Benjamin and a small number of the descendants of the tribe Levi. Only later in history Judah became known as Jews. The name Jew is mentioned after the Babylonian captivity took place.
It is important to know clearly the difference between the House of Israel and the House of Judah. By knowing this difference well we are able to understand the present world events. Not many people are aware of the difference between these two Houses, let alone willing to believe this.
The Bible is showing the different perspectives between the House of Israel and, the House of Judah. God commanded the House of Israel to be a blessing for all generations on earth. According to the Bible in Isaiah 65:15 the name of Judah would become a curse. Furthermore: the Bible also tells us that God would spread the name all over the world through mockery and scorn. This curse would last until the people would receive God's grace in the "end times". Prophets also have indicated to each of both Houses God's inspired, promises, warnings and threats.
Reading the judgments and the prophecies of Jeremiah clearly show the difference between the House of Israel, and the House of Judah. The tribe of Judah would be uprooted in all countries without a geographical inheritance. Judah would be mocked and cursed everywhere they were dispelled to. At that time Israel already was in captivity.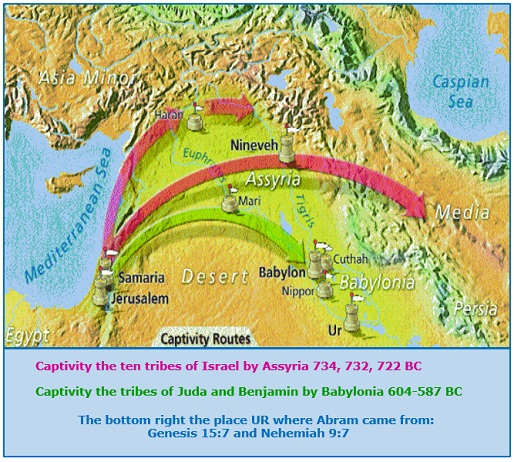 The House of Israel: Israel as a nation would "get lost" a people that would be blind for its own identity.
Jeremiah 50:6
My people hath been lost sheep: their shepherds have caused them to go astray, they have turned them away on the mountains: they have gone from mountain to hill, they have forgotten their restingplace.
supports
John 10:16 And other sheep I have, which are not from this fold: them also I must bring, and they shall hear My Voice; and there shall be one fold and one Shepherd.
Isaiah 42:16, 18 And I will bring the blind by a way that they knew not: I will lead them in paths that they have not known: I will make darkness light before them, and crooked things straight. These things I will do unto them, and not forsake them.
18 Hear, ye deaf; and look, ye blind, that ye may see.
Isaiah 43:8 Bring forth the blind people that have eyes and the deaf that have ears.
support
Romans 11:7 What then? Israel hath not obtained that which he seeketh for; but the election hath obtained it, and the rest were blind.
Out of Israel nations and a company of nations will come forth.
Genesis 35:11 And God said unto him, I am God Almighty: be fruitful and multiply; a nation and a company of nations shall be of thee, and kings shall come out of thy loins;
Genesis 48:19 Jacob speaking to, his son Joseph. And his father refused, and said, I know it, my son, I know it: he also shall become a people, and he also shall be great: but truly his younger brother shall be greater than he, and his seed shall become a multitude of nations.
Israel would be called after Isaac
Genesis 21:12 And God said unto Abraham, Let it not be grievous in thy sight because of the lad, and because of thy bondwoman; in all that Sarah hath said unto thee hearken unto her voice; for in Isaac shall thy seed be called.
supports
Romans 9:7 Neither, because they are the seed of Abraham, are they all children: but, in Isaac shall thy seed be called.