Knowledge is understanding. and understanding results in wisdom.
Three important words to know God, Who He is, what He is all about and what He will do in the time to come. To gain understanding of God's Word we first have to collect knowledge. Wisdom is what our response will be to that knowledge.
The Bible has 66 Books, Isaiah has 66 chapters. In the Book of Proverbs occur the three words 66 times.
Know and its combination
Understand and its combination
Wise and its combination
Wisdom of God's Word is keeping our soul away from satan's grip.
–Proverbs 1:1-5
1 The proverbs of Solomon the son of David, king of Israel;
2 To know wisdom and instruction; to perceive the words of understanding;
3 To receive the instruction of wisdom, justice, and judgment, and equity;
4 To give subtilty to the simple, to the young man knowledge and discretion.
5 A wise man will hear, and will increase learning; and a man of understanding shall attain unto wise counsels:
–Proverbs 1:6 To understand a proverb, and the interpretation; the words of the wise, and their dark sayings.
The Candlestick is another proof that the Bible is complete with the 66 Books.
The branches of the candlestick:
one side branch has 3 almond bowls
each almond bowl has a flower and a knop is 3×3=9
there are 6 side branches is 6×9=54
the middle branch has 4 almond bowls
each almond bowl has a flower and a knop is 4×3=12
54 + 12=66.


The Books of the OT represent 3 branches with each 9 knops on each side is 27, plus de decoration of the middle branch with its almond bowls, flowers, and a knop is 12 27+12=39.
The Books of the NT represent minus the 12 decorations of the middle branch is 27.
The OT 39 Books, the NT 27 Books = 66 Books.
All the Scriptures were a work in progress, especially the NT.
David believed and received the Holy Ghost. He only had the five Book of Moses.
Cornelius became a believer because Peter preached the Word of God unto him and his house.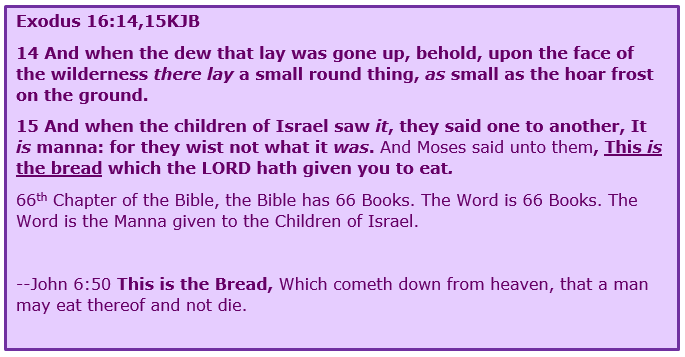 The Apocrypha books can be read like history books. There is, of course, nothing wrong that. But that's where it ends. The books are not inspired by God, nor are any texts quoted by Lord Jesus Christ, or by any of the Apostles.