John 1:1,2
In the beginning was the Word, and the Word was with God, and the Word was God.
The Same was in the beginning with God
Isaiah 9:6
For unto us a Child is born,
unto us a Son is given;
and the government shall be upon His shoulder:
and His Name shall be called
Wonderful, Counselor, The mighty God, The everlasting Father, The Prince of Peace.
John 10:30 I and My Father are One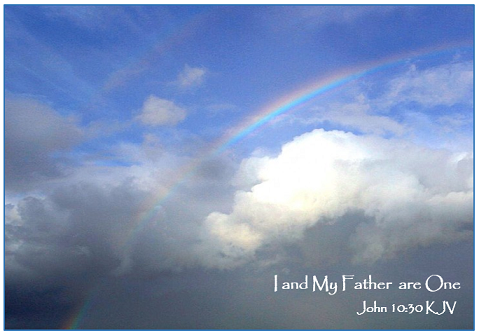 John 17:26 And I have declared unto them Thy Name, and I will declare; that the love wherewith Thou hast loved Me may be in them and I them
1Timothy 3:16
God was manifested in the flesh;
justified in the Spirit;
seen of angels;
preached unto the gentiles;
believed in the world;
received up into glory.
The order as the Father, the Son and the Holy Spirit
Matthew 28:19;20 Go ye therefore, and teach all nations, baptizing them in the name of the Father, and of the Son, and of the Holy Ghost: 20 Teaching them to observe all things whatsoever I have commanded you: and, lo, I am with you alway, even unto the end of the world. Amen.
In the order of the Holy Spirit, Lord Jesus and God the Father
1Corinthians 12:4-6 Now there are diversities of gifts, but the same Spirit. 5 And there are differences of administrations, but the same Lord. 6 And there are diversities of operations, but it is the same God which worketh all in all.
Co-equal, co-eternal possessing the Nature of God, thus the Three-Are-One
Ephesians 4:4-6 There is one body, and one Spirit, even as ye are called in one hope of your calling; 5One Lord, one faith, one baptism 6One God and Father of all, Who is above all, and through all, and in you all.
2Corinthians 13:14 The grace of the Lord Jesus Christ, and the love of God, and the communion of the Holy Ghost, be with you all. Amen.
1John 5:7 For there are Three that bear record in heaven, the Father, the Word, and the Holy Ghost: and these Three are One.
Lord Jesus Christ in the Old Testament
Exodus 13:14 And God said unto Moses, I AM THAT I AM: and He said, Thus shalt thou say unto the children of Israel, I AM hath sent me unto you.
Isaiah 45:2;22 I am the LORD, and there is none else, there is no God beside me: I girded thee, though thou hast not known Me: 22 Look unto me, and be ye saved, all the ends of the earth: for I am God, and there is none else.
God Himself manifested in the Flesh fulfilled the Ten Commandments to perfection, the LORD once gave to Moses. Lord Jesus Christ was walking among us and died, resurrected and ascended into heaven. Humanly speaking at the age of thirty three.