"He came to His own and many received Him not. But as many as received Him to them gave He the power to become the sons of God even to them that believe on His Name" John 1:11,12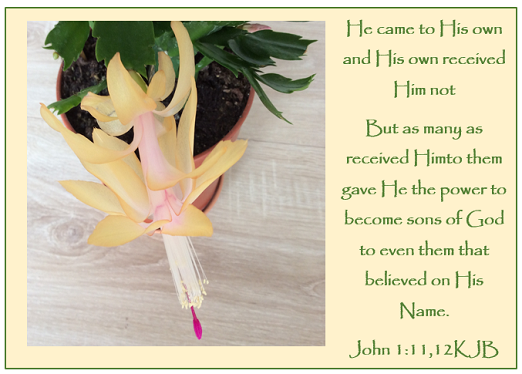 "He came to His Own, these words we can take personally. Jesus Christ is Salvation. Do believe! Faith in Him is a precious Gift of God. God works through the Holy Ghost in us, but we have to believe. Do ask for forgiveness of sins. There will be no rejection. A very warm welcome, a gentle face and pierced Hands stretched out to us is our share.
Jesus Christ came to His own, foretold in the Psalms and the Prophets:
Psalms 2:7″Thou art My Son; this day I have begotten Thee"
Isaiah 9:6″Wonderful, Counsellor, the Mighty God, the Everlasting Father, the Prince of Peace"

Immanuel, God with us is not delusional! Jesus Christ Who came to His own, is revealed in the Gospel; has suffered for us on Calvary's Cross, bearing all our sins, triumphed, resurrected, and ascended to the Father. Christ Jesus is not the Christ of Rome, nor the Christ of the television pastors, nor the Christ of  any ritual, nor the Christ of any works. Lord Jesus is the Only Way to Salvation.
Jesus Christ came to His own He is the Bread of Life, let us accept Him; He is the Light; let His Light surround us; He is the Life let us receive this Life. We are poor and miserable. Let Him fill us with His Riches and His Joy. That's how it will be in this life and Life Everlasting in His Presence.