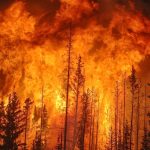 When fire coming down from heaven it is a judgement, a curse of Yahweh God. It will be death, destruction, and desolation. Think about the well-watered plains of Jordan that Lot chose for himself to dwell.
Genesis 19:24. "Then the LORD rained upon Sodom and Gomorrah brimstone and fire".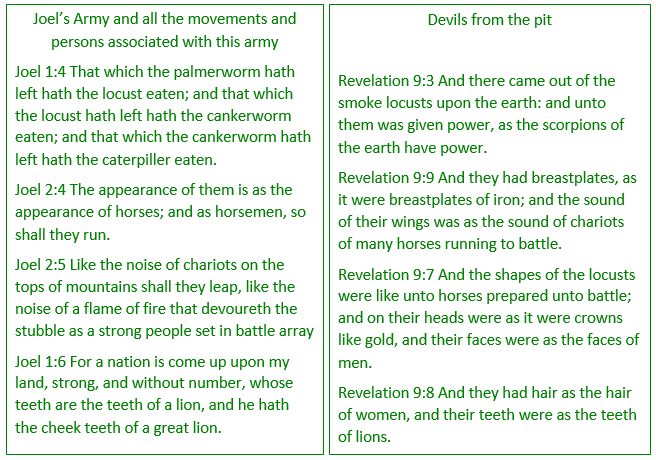 What happened to the wicked in Sodom and Gomorrah will also happen to any false movement like Joel's Army, or any impartation movement. Names associated with Joels' Army are Todd Bentley, Peter Wagner, Rick Joyner, Sarah Palin, Benny Hinn, among others, These deceptive movements are claiming Yahweh God will empower them; they are calling for fire to come down from heaven so, they can purify the church, and the apostasy of the world for the Kingdom of Yahshua Christ. Do we really want this to happen?
Deuteronomy 29:23 "And that the whole land thereof is brimstone, and salt and burning, that is not sown nor beareth, nor any grass groweth therein like the overthrow of Sodom, and Gomorrah, Admah and Zeboim, which the LORD overthrew in His anger"
Psalms 11:6 "Upon the wicked He shall rain snares, fire and brimstone, and horrible tempest, this shall be the portion of their cup"
Psalms 105:32 "He gave them hailstones for rain and flaming fire in their land"
Ezekiel 38:22 "and I will plead against him with pestilence and with blood and I will rain upon him and his bands and upon many people that are with him an overflowing rain and great hailstones, fire and brimstone."
Revelation 14:10 "The same shall drink of the wine of the wrath of God which is poured out without mixture into cups of His indignation: and he shall be tormented with fire and brimstone in the presence of the holy angels and in the Presence of the Lamb.
The blessed fire of Yahweh is not consuming: To Moses Yahweh God made Himself known as the Great I AM, THAT I AM in a non-consuming fire amid a bush.
Exodus 3:2"And Moses said I now will turn aside to see why the bush is not burned". While looking Moses heard a voice and it was the Voice of the God of Abraham, Isaac and Jacob not to come closer for he was on holy ground verse 5: "Draw not nigh hither:put off thy shoes from thy feet, for the place where on thou standest is holy ground"

The blessed fire of Yahweh God is a light that is His Word telling us where to go: Psalms 119:105: "Thy Word is a Lamp unto my feet and a Light upon my path.
What is the Word? The Word is Jesus Christ! John 1:1 "In the Beginning was the Word"
Who is the Light? The Light is Jesus Christ! John 8:12 " I Am the Light of the World"

Yahshua Christ is telling us in John 15:5 "without Me ye can do nothing"
Any impartation movement or -individual claiming they are fighting for Yahweh is deceiving mankind. Yahweh God does not need any favors or assistance from anyone let alone a fighting army bringing His Kingdom on earth. Yahweh God, Himself will establish His Kingdom on earth. What Yahweh God is asking from us is to trust Him, and to wait for Him.

Isaiah 9:7: "The zeal of the LORD of hosts will perform this"  
Isaiah 26:4: "Trust ye in the LORD forever for in the LORD Jehovah is everlasting Strength .
Psalms 27:14 "Wait on the LORD: be of good courage, and He shall strengthen thine heart: wait, I say, on the LORD ".
That's what we have to do for Jesus Christ is telling us in John 16:33 "but be of good cheer I have over come the world"
*Other impartation movements are: The Latter Rain, The New Apostolic Reformation, The Hebrew Roots Movement, Seven Days Adventists Signs & Wonders Movement, The Hyper Charismatic Movement. All these movements are denying the Godhead of Yahshua Christ, and their salvation is  based upon works.