"And it came to pass, as they still went on, and talked, that behold, there appeared a chariot of fire, and horses of fire, and parted them both asunder; and Elijah went up by a whirlwind into Heaven". 2Kings 2:11
Elijah and Elisha
The LORD told Elijah to return and that he would not see death in his life. Even much more the LORD would take Elijah up into Heaven. He was to go Bethel and he said to Elisha that he was to stay in Gilgal. But Elisha said: "As the LORD liveth and as thy soul liveth I will not leave you". So they both went to Bethel. The sons of the prophets asked Elisha if he knew that Elijah soon would be taken away and he said that he knew. Arrived in Bethel Elijah said that he was to go Jericho and said to Elisha to stay in Bethel and again he said he would not leave. When the prophets came to the bank of the Jordan River Elijah smote the waters with his mantle, the waters divided so that they could walk on a dry path. When crossed the river Elijah said to Elisha: "Do you have a wish, Elisha?" He replied, "I pray thee let a double portion of thy spirit be upon me". Elijah said : "You have asked a very hard thing nevertheless when you see how I am taken away from you then the wish is granted but if not your wish is denied" (verse 10)
Elijah taken up into Heaven
The two continued the journey when suddenly chariots and horses with fire appeared. Elijah was gone. But Elisha did see how Elijah was taken up into heaven and called out: "My father, my father, the Chariot of Israel and the horsemen there of "(verse 12) Then he saw Elijah no more.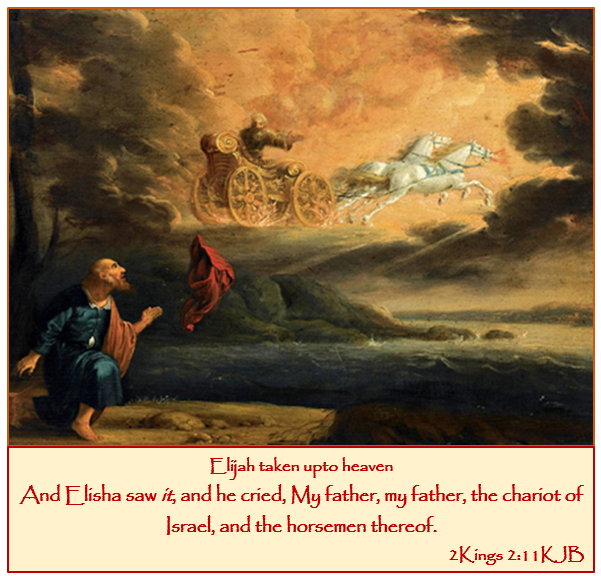 Elijah representing the Church (all who are in Christ); Elisha representing Israel. Elijah and Moses will be the two witnesses described in Revelation 11:1-11. They will be prophesying in the Name of the LORD.

Elisha rents his clothes and picks up the mantle of Elijah stood near the bank of the river and said: "Where is the LORD God of Elijah?" (verse 14) He smites the waters just like Elijah did, the waters divided and he went over a dry path.
And Elisha returned to The Promised Land with a double portion of the Spirit of Elijah.