Yea hath God said" Genesis 3:1
The Jesuits infiltrated the Protestant Reformed Church. The Jesuits claimed the myth of the Pre-trib Rapture. The Jesuits claimed the myth of the 70th Week in Daniel 9 as not being fulfilled as truth.
The phrase "confirm the covenant" in Daniel 9:27 relates to the Covenant God made with Abraham.
Genesis 17:4 As for me, behold, my covenant is with thee, and thou shalt be a father of many nations.
This Covenant is ratified by Jesus Christ when His Blood was flowing on Golgotha. The 70th Week is completely fulfilled when Jesus Christ called out" "It is finished". And even more so God breached the gap between His Chosen people and brought the two Houses back together again.
John 19:30 When Jesus therefore had received the vinegar, he said, It is finished: and he bowed his head, and gave up the ghost.
Abraham, Isaac, and two with their young men went on their way to the place where Abraham had to offer Isaac. The total of four men is a representation of the Four Gospels Matthew, Mark, Luke and, John that lead to redemption for Israel and for salvation of people of nations that will call upon the LORD.
After two days* of traveling on the third day Abraham looked up and saw afar off**. Abraham saw Mount Moriah but God also let him behold the future; Golgotha, three crosses, and three days later. God not only promised Abraham the Land where his descendants would live. It was much more. Abraham knew God would send a Redeemer, who is offering Eternal Life.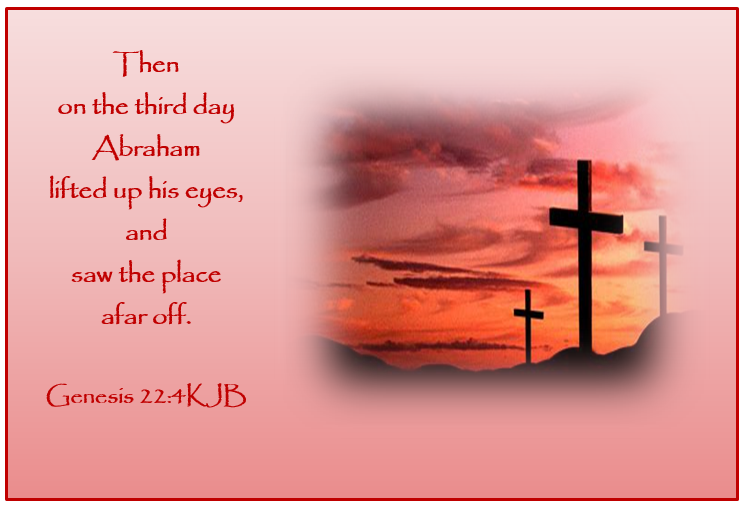 *Two days, two thousand years between Abraham and Jesus Christ.
Psalms 90:4 For a thousand years in thy sight are but as yesterday when it is past, and as a watch in the night.
2Peter 3:8 But beloved, be not ignorant of this one thing, that one day is with the Lord as a thousand years and a thousand years as one day.
**Afar off
2Peter 1:9 But he that lacketh those things is blind, and cannot see afar off, and hath forgotten that he was purged from his old sins.
Jesus Christ is warning us we shall have tribulation, however, God will carry us through everything. Jesus Christ did not fall for satan's temptation when He was 40 days in the desert. Don't we want to follow in the Footsteps of our Redeemer? Shouldn't we do the same? Aren't we all who are IN Christ more than conquerors?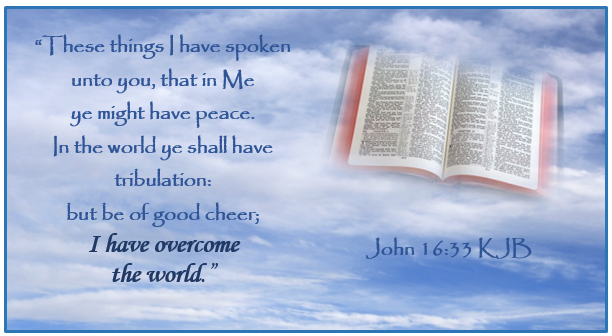 Christ Jesus has overcome the world. When we do not believe this we fall even shorter than we already are!