"Yea hath God said" Genesis 3:1
Repeating lies time and again as the roman popery does, the lies eventually become truth and will be accepted. The so-called Ph.D. theologians including John VanWalvoord, Daniel Wallace, James White, Hal Lindsay, among others have accepted and claiming the deception of the Pre-trib Rapture and the myth of the 70th Week of Daniel 9:27 as true.
And let's not forget Jimmy Swaggart with his manipulative expositions of the Bible marked in red and interrupting God when God is speaking in His Word. Also, Tim LaHaye claiming in his book$ that there will be a second chance for the left behind; for them, salvation will be based upon works. That is not true. It is another gospel. The time for grace and salvation is here and the time is now. There will be no second chance.
More of GOD's PROOF, that the 70th Week of Daniel is fulfilled.
Lord Jesus started His Ministry when He was 30 years of age after the Saviour was baptized by John the Baptist and anointed by the Father. Furthermore: The rebuilding of a third temple and the restoration of animal sacrifice is not mentioned in the Bible. It would also, totally, destroy the finished Work of Christ.
Luke 3:22, Matthew 3:17, and Mark 1:11 as well are supported by Daniel 9:24, 25. And the Holy Ghost descended in a bodily shape like a dove upon Him, and a Voice came from heaven, Which said, Thou art My beloved Son; in Thee I am well pleased.
Seven commandments fulfilling the seventieth week of Daniel 7×70 = 490. This prophecy of God is fulfilled to perfection by Lord Jesus Christ.
Daniel 9:24 Seventy weeks are determined upon thy people and upon thy holy city
1 to finish the transgression,
2 and to make an end of sins,
3 and to make reconciliation for iniquity,
4 and to bring in everlasting righteousness,
5 and to seal up the vision and prophecy,
6 and to anoint the most Holy.
Daniel 9:25 Know therefore and understand, that from the going forth of the commandment
7 and to build Jerusalem unto the Messiah the Prince shall be seven weeks
and threescore and two weeks: the street shall be built again, and the wall, even in troublous times."
Isaiah 61:1 supports Luke 4:18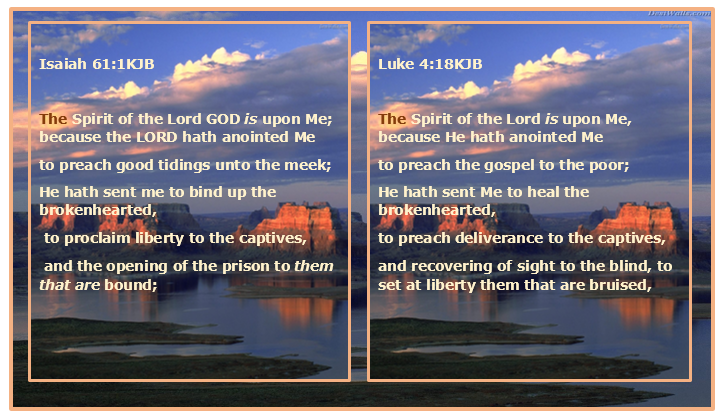 Is the Seventieth Week of Daniel not fulfilled?
Didn't God come down as Lord Jesus manifested in the flesh to take away our sin? Our sin dating back to the Fall in the garden of Eden?
1Timothy 3:16 And without controversy great is the mystery of godliness: God was manifest in the flesh, justified in the Spirit, seen of angels, preached unto the Gentiles, believed on in the world, received up into glory.
1John 3:5 And ye know that he (=God) was manifested to take away our sins; and in him is no sin.
Would it have been possible to be reconciled with God without the Gospel of Jesus Christ? Doesn't the Gospel of Jesus Christ tell us that through His Blood we have forgiveness of sins?
Romans 5:10 For if, when we were enemies, we were reconciled to God by the death of his Son, much more, being reconciled, we shall be saved by his life.
Colossians 1:21 And you, that were sometime alienated and enemies in your mind by wicked works, yet now hath he reconciled. (=Lord Jesus)
Isn't it true by Jesus Christ only we stand righteous before the Holy God?
Romans 3:22 Even the righteousness of God which is by faith of Jesus Christ unto all and upon all them that believe: for there is no difference:"
2Corinthians 5:21 For he hath made him to be sin for us, who knew no sin; that we might be made the righteousness of God in him.
Doesn't Moses, the prophets, and Psalms prophesy about the coming of the LORD? Isn't God the Only One Who was able to fulfill the Ten Commandments, the Law He once gave to Moses on Mount Sinai? God descending from Heaven to walk among us as Lord Jesus Christ to suffer to fulfill the Law. The Law nobody did and could keep?
Luke 24:25-27 Then he (=Lord Jesus) unto them O, fools, and slow of heart to believe all that the prophets have spoken:" 26 Ought not Christ to have suffered these things, and to enter into his glory? 27 And beginning at Moses and all the prophets, he expounded unto them in all the scriptures the things concerning himself.
The building of the wall is described in Nehemiah chapter 4
Nehemiah 4:20 In what place therefore ye hear the sound of the trumpet, resort ye thither unto us: our God shall fight for us.
to be continued part 3 https://www.the-only-way.net/daniel-927-the-covenant-with-abraham-part-3/