This is not the only pandemic crisis mankind has to endure. We think for instance about the Spanish Flu in 1918 and the Mexican Flu also known as the swine flu or H1N1 in 2009. But the Mexican Small Pox in 1520 and London Plague from 1563 to 1564 as well. Cycles come and go. Ecclesiastes 1.
–Ecclesiastes 1:9 The thing that hath been, it is that which shall be; and that which is done is that which shall be done: and there is no new thing under the sun.
Transgressions
Psalms 51: 1b,2,3 and 9-11
1b Have mercy upon me, O God, according to thy lovingkindness: according unto the multitude of thy tender mercies blot out my transgressions.
2 Wash me throughly from mine iniquity, and cleanse me from my sin.
3 For I acknowledge my transgressions: and my sin is ever before me.
9 Hide thy face from my sins, and blot out all mine iniquities.
10 Create in me a clean heart, O God; and renew a right spirit within me.
11 Cast me not away from thy presence; and take not thy holy spirit from me.
Fear Not
Psalms 91:1,2,6 and 7
1 He that dwelleth in the secret place of the Most High shall abide under the shadow of the Almighty.
2 I will say of the LORD, He is my refuge and my fortress: my God; in him will I trust.
6 Nor for the pestilence that walketh in darkness; nor for the destruction that wasteth at noonday.
7 A thousand shall fall at thy side, and ten thousand at thy right hand; but it shall not come nigh thee.
—2Timothy 1:7 For God hath not given us the spirit of fear; but of power, and of love, and of a sound mind.
–Luke 12:7 But even the very hairs of your head are all numbered. Fear not therefore: ye are of more value than many sparrows.
–-Luke 12:32 Fear not, little flock; for it is your Father's good pleasure to give you the kingdom.
Read the Bible
–Isaiah 34:16 Seek ye out of the Book of the LORD, and read: no one of these shall fail, none shall want her mate: for my mouth it hath commanded, and his spirit it hath gathered them.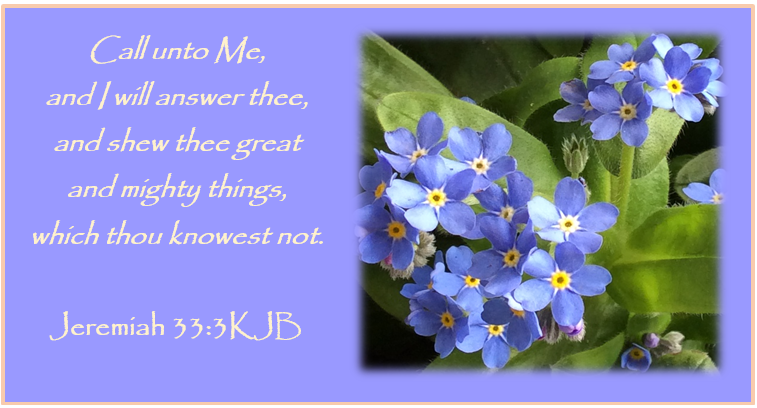 —John 16:33 These things I have spoken unto you, that in Me ye might have peace. In the world ye shall have tribulation: but be of good cheer; I have overcome the world.