Elijah was taken up into heaven in the clouds in a chariot with horses and a flaming fire. The LORD will come back in the clouds to take His bride the Church (all who are IN Christ) into Heaven. Maybe also in a whirlwind and in the clouds in a chariot with horses. Who knows.
Psalms 104:3,4
3 Who layeth the beams of chambers in the waters, Who maketh the clouds His chariot,
4 Who walketh upon the wings of the wind, Who maketh His angels spirits, His ministers a flaming fire".
Isaiah 66:15
For behold the LORD will come with fire and with His chariots like a whirlwind
to render His anger with fury, and His rebuke with flames of fire.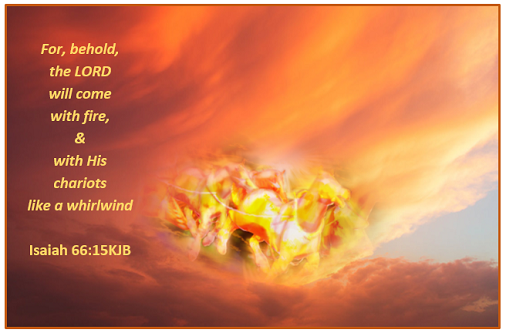 Jeremiah 4:13
Behold He shall come up as clouds and His chariots shall be as a whirlwind.
His horses are swifter than eagles.
Woe unto us for we are spoiled.
Nahum 1:3
The LORD hath His way in the whirlwind
and in the storm and the clouds are the dust of His Feet.
1Thessalonians 4:17
in the clouds to meet the LORD in the air